Material Guide
Choosing your rug in the ideal material doesn't have to be difficult. Read our tips about the different rug materials and our recommendations for every room of the house. For tips on how to take care of your rug, take a look at our Care Guide.
WOOL
Woolen rugs made from sheep wool fit diversely into different rooms of the house due to their good qualities. Wool is naturally resistant to dirt and it attracts less dust than other materials. The easiest way to keep a woolen rug clean is regular wacuuming. A woolen rug is especially delightful in winter time as it insulates warmth. Wool is also the most fire-safe natural fiber and an acoustic material. You can place a woolen rug to warm up your steps in your living room, bedroom, corridor or hallway. The sheep wool used in Finarte's rugs is mulesing-free and from India, New Zealand and Saudi Arabia.
pros
+ resistant to dirt
+ easy to maintain
+ naturally fire-safe
cons
– some fluff may come off
– some people can be allergic to wool
Shop wool rugs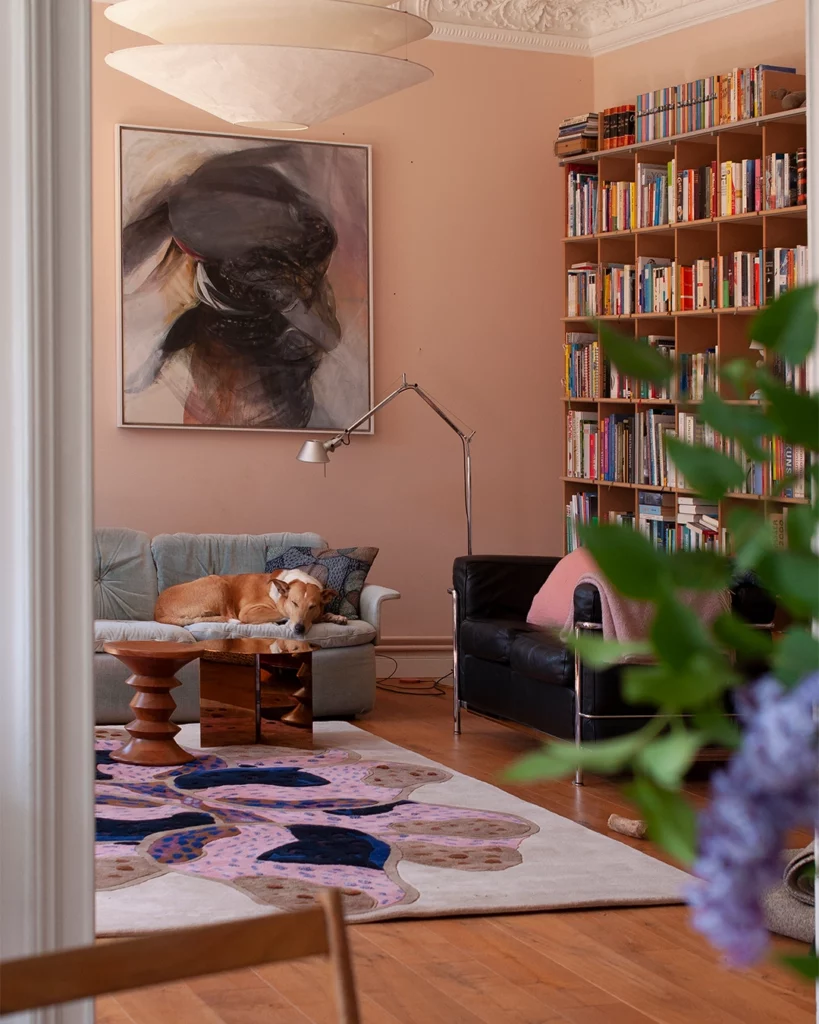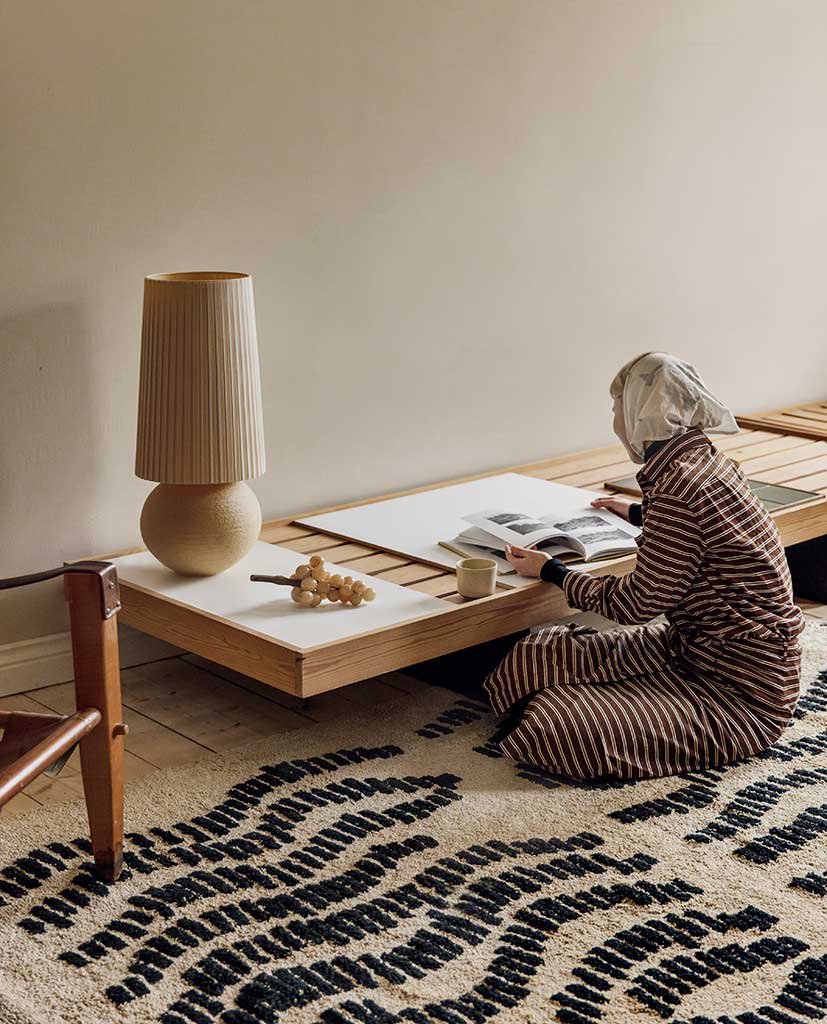 RECYCLED COTTON
Cotton is a practical and delightfully soft material. You can place a cotton rug almost anywhere in your home. Due to its durability and maintainability it's a perfect fit to hallways and kitchens. Cotton rugs are also the common choice of households with children and pets. All cotton in Finarte's rugs is recycled. We re-use the cutting-edges of giant textile rolls and therefore transforms waste materials  into Finarte rugs.
pros
+ durable
+ easy to wash and maintain
+ no pilling
cons
– a long term exposure to sunlight can make the fiber fade
– low thermal insulation
– less dirt repellant than wool
shop recycled cotton rugs
VISCOSE
Viscose is a soft and breathable cellulose-based regenerated fiber that has a beautiful silk-like shine to it. The color and shine of the surface change depending on how the light sets on it.
Viscose is a sensitive material and should be placed in a room where there's a little less traffic. Viscose rugs are best-suited as eye-catchers in living rooms and bedrooms. Viscose doesn't work well with liquids or moisture. Smaller stains can be wiped out for example with a dry microfiber cloth. We recommend avoiding any watering because moisture can cause staining or changes to the shine of the material.
pros
+ beautiful shine
+ soft, silk-like feel
+ luxurious material
cons
– sensitive to moisture and friction
– water can cause staining
– heavy furniture can cause imprints to the surface
Shop viscose rugs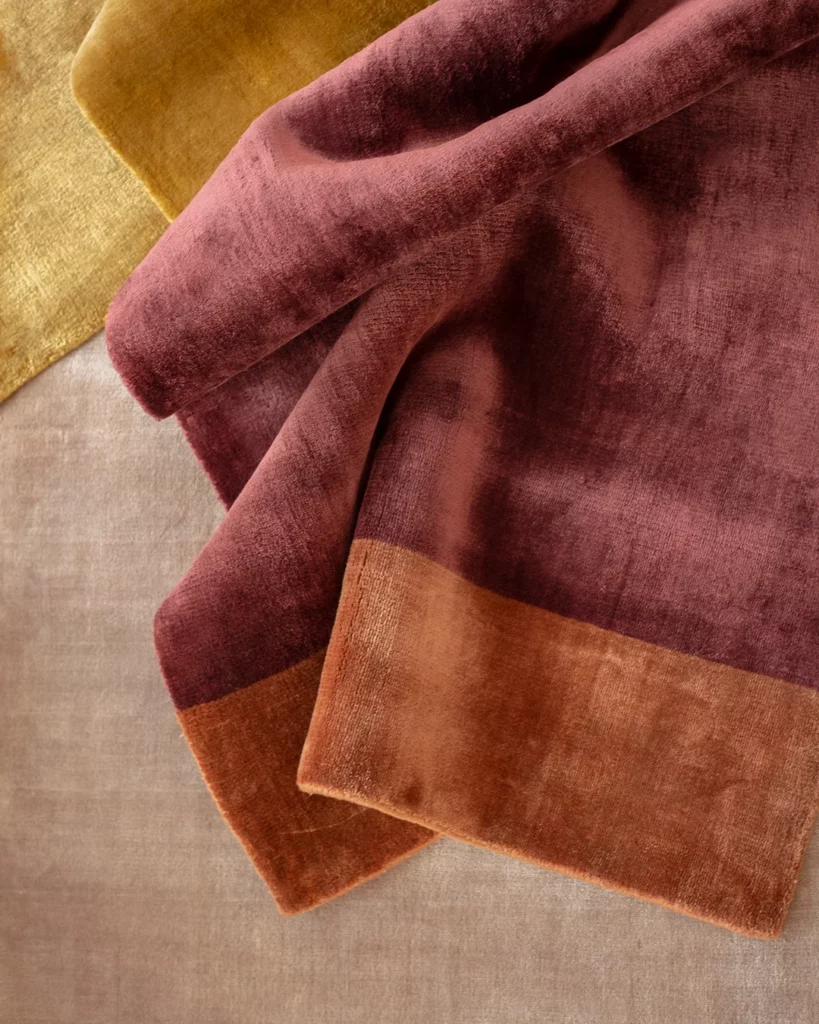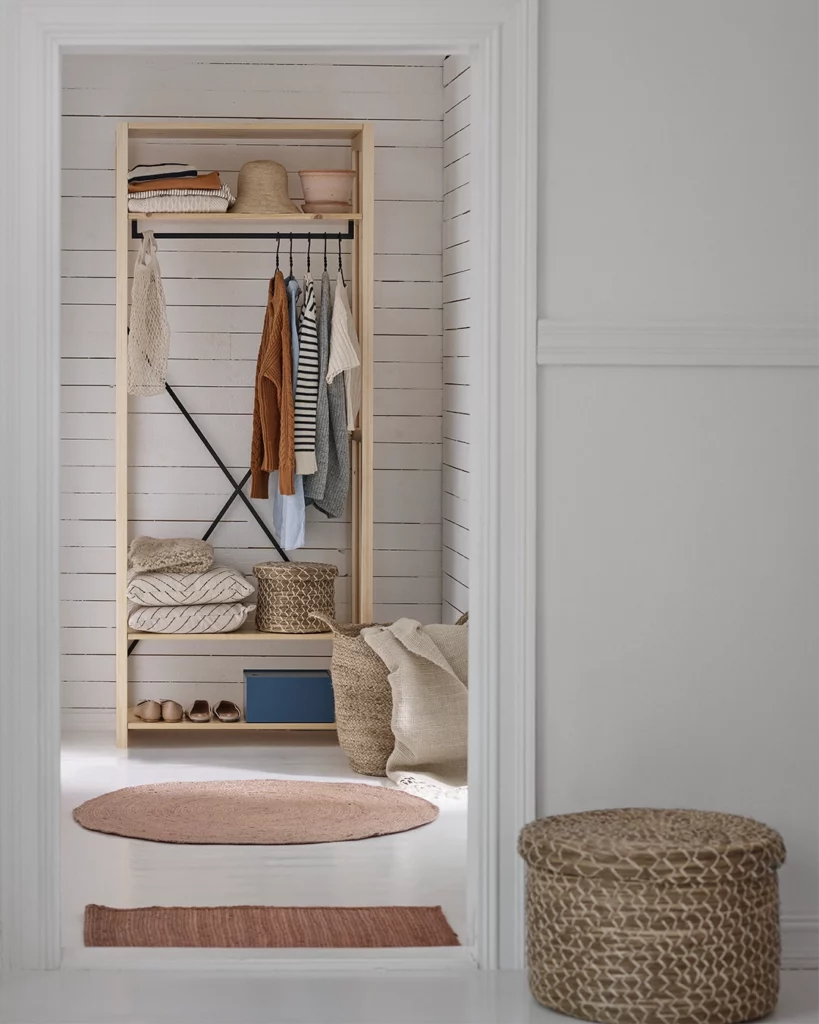 JUTE
Jute is a fast-growing natural fiber that is one of the most ecological natural materials available. Jute can be grown without pesticides or fertilizers. The jute Finarte is using is from India, nearby from where our jute rugs are woven by the local artisans.
The best features of jute are durability and practicality.  Jute is naturally multicolored and the color of a jute fiber can vary from off-white to brown. That's why jute rug is very good at hiding the stains and dirt on it. For its' strength and robustness, jute is especially apt for entryways and balconies.
pros
+ easy to keep clean with vacuuming
+ environmentally friendly natural fiber
cons
– sunlight can weaken and fade the fiber
– some fiber may come off
shop jute rugs
RECYCLED PET
What if a rug has to cope with a bit more heavier use in entryways, balconies or under the paws of pets? A great choice for these situations is rPET made from recycled plastic bottles. It's a strong yet light, wool-like material that is easy to maintain and soft to touch. This versatile material is also resistant to water and UV radiation making it suitable for balconies and moist spaces.
pros
+ strong yet soft material
+ easy to wash and maintain
+ resistant to moisture and sunlight
+ made from recycled plastic bottles
cons
– low thermal insulation
– less dirt repellant than wool
Shop rpet rugs